Hello again EOS,
The Chief Delegates from the second trial mock Eden had our fourth team meeting this afternoon. In our continued efforts of transparency you will find below the notes from this meeting as well as a link to the unedited video capture for your review.
We have begun our Eden Office hours which run each weekday from13:00 15:00 UTC. These are meant to be open calls to the community that are almost like a water cooler chat. It can be working background noise or you can ask questions about Eden or the various projects that are on the go. This Zoom link is the same for each daily call:
Some other things to note (that came up at the end of the meeting):
Chris is working on a reply video to Russell Brand from this video of his. The idea is to get his attention on More Equal Animals and see where that may go, ideally to interview Dan.
A tweet was sent to Lex Fridman who was looking for books to read so Josh put up a reply tweet suggesting More Equal Animals. Please check that out and retweet/like it.
Someone from the main company behind the holacracy framework joined us on our daily Office hours and really liked our application which isn't typical but interesting. From this exposure he's started to read More Equal Animals and offered a couple free passes to learn more about holacracy from their paid access platform.
We are starting a bit of a book club around More Equal Animals. The idea will be to tease out some key concepts and takeaways from each chapter that could be distilled into shorter document for those new to the concepts and idea to look at without pointing someone to an entire book when curious about the Eden process and the concepts in More Equal Animals.
Eden on EOS Holacracy Framework:
For reference to our Eden on EOS framework initiative, organizing ourselves more effectively, please see the documents below:
Full holacracy framework document.
Shortened framework with the specific roles listed for easy view.
The full unedited video from this meeting can be found here: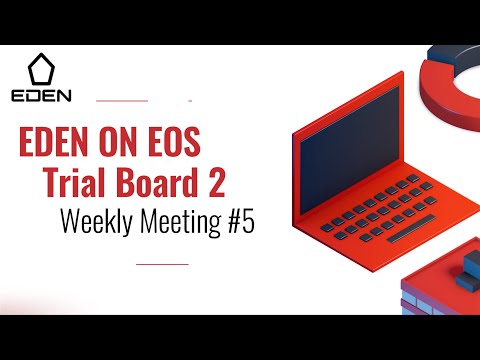 The following remains as our Chief Delegate Trial 2 mission statement:
Develop an Eden on EOS organizational structure that is scalable, iterative, transparent, & collaborative with the entire EOS community.
Review Progress on our Individual Mandates:
Josh - EOS Support:
Next Friday to have MVP website and service available
Will be mostly a FAQ and chat functionality.
The site will have a roadmap on it for things planned.
Randall has a design background so looks pretty nice.
Francis from Pizza BP to help with the smart contract part of the platform that Randall had requested.
GenerEOS has also agreed to help build this. $31k plus $1k/mo to maintain this.
The Smart Contract will be to help with gamification of the platform
5-6 known EOS community members stepping up to support this. They will be volunteering time for now.
A more formal proposal and budget will be created. Want to demonstrate the proof of concept and MVP.
Will look to EOS Foundation and a future Eden election for financial support.
Ami - EOS in a Box:
Building blocks are working. WebAuthN with finger print on phone.
He can create an account, did some tests on Jungle3.
Has WebAuthN to sign arbitrary transactions with it.
Now will assemble it all and make a progressive web app.
Something that could be installed on your phone but it web based.
Will have an Alpha product hopefully next week.
Won't automatically pop up on the phone for an approval, and will have a manual aspect to it. IE take the text from the app requiring a signature and can paste into the app.
On one hand it'll be easy to install and share, but won't be as easy to use as a regular app on an app store.
Will be able to open and send EOS directly from it.
Will potentially be clunky to use for other apps.
Chris - Eden Member's Proxy:
Two BP interview videos were put up last week, Greymass and EOS Amsterdam.
More BPs are being contacted to work out more interviews.
Will work on posting information about the BPs in a publicly accessible location.
Ideally the Proxy won't be started until more interviews are completed and more general information has been provided. That being said this needs to be completed prior to the next election so may need to happen sooner to do so.
Felix - EOS Faucet:
Missing from meeting, but is working to introduce the Eden process into a Creator Now competition that Felix would host and provide the reward in EOS.