Hello again EOS,
The Chief Delegates from the second trial mock Eden election had our eleventh team meeting this past Monday. In our continued efforts of transparency you will find below the notes from this meeting as well as a link to the unedited video capture for your review.
General Notes:
Next week we will publish a summary of our work for this term. We will highlight any issues, successes etc…
We will aim to publish this and discuss on our final Board meeting on Oct 4th.
Chris will be putting out a forum post this week on things to consider as a voter in the upcoming election. This is more for the less knowledgeable participant in terms of blockchain/EOS knowledge. This may also help encourage more participation in the upcoming election for at least that first round.
We are continuing with our Mon-Thurs 13:00 UTC open zoom office hours/eden induction support call. The link for those calls remain the same.
More Equal Animal review live sessions are still ongoing. The next installment will be this Friday at 13:00 UTC. Find the livestream link in TG before the show or look for it on the Eden YouTube channel page. Unpacking More Equal Animals
Eden on EOS Holacracy Framework:
For reference to our Eden on EOS framework initiative, organizing ourselves more effectively, please see the documents below:
Full holacracy framework document.
Shortened framework document with the specific roles listed for easy view.
The following remains as our Chief Delegate Trial 2 mission statement:
Develop an Eden on EOS organizational structure that is scalable, iterative, transparent, & collaborative with the entire EOS community.
The full unedited video from this meeting can be found here: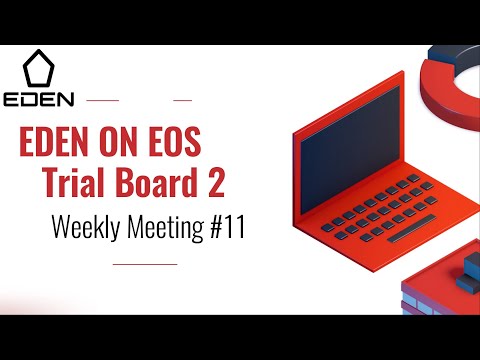 Review Progress on our Individual Mandates:
Felix: Creator Now
- No new video this past week…learning a new software. Would like to make a welcome to Eden video…looking to do that this week.
- 40 EOS spent from previous winnings have been spent in showing the influencer Airack EOS.
- Will keep the remaining 70 EOS for the original purpose of marketing initiatives for EOS. May keep these funds to use after the next Oct 9 election.
Josh: EOS Support
- Already gave funds to EOS Support.
- Super close to MVP of the EOS Support with a live chat widget.
- This will be deployed on several of the EOS community websites. Looking to get permission from Dan to put it on the Eden and EOS community websites. Will go on the edenproxy.org website. Also looking to add this to Greymass' website for the Anchor wallet.
- Should be noted that a scam was underway that Drill Sgt Zeus was able to support this user and intervene before their funds were stolen. This is a great example of why this EOS Support system is needed.
Ami: EOS in a Box
- Eosinabox.com is up and running. The software is functional but not as pretty as Ami would've hoped.
- You can create an EOS account via an interaction with someone else who currently has an account…and you need to trust that person.
- The key pair is created via the phone hardware, so the Active Private key is very secure, but the challenge is this key can't be backed up. So a loss of phone can mean your account is gone.
- Your friend comes in here though who has the owner permission for the key and can they help to reassign the account to a replacement device.
- You can use this on the Jungle 3 testnet or on the EOS mainnet.
- Will look to see if sites that require permissions can add this wallet to their apps so users with this wallet can login.
Chris: edenproxy.org
- For the most part the commitment from the previous election is completed. Proxies are up, website is up, BP interview are ongoing.
- Not a tonne of traction with roughly 80k votes delegated to these proxies so far.
- The BP interviews are ongoing and will persist into the future. Future interviews won't be put up on the Everything EOS YouTube channel going forward and will instead live on the Eden on EOS YouTube channel.
- Ongoing the proxies will require a once a month refresh of their votes based on the current rankings of BPs via the eosrate.io tool.
- The Google Cloud BP, after being made aware of this, signed their bp.json onchain so they are now up for rating at eosrate.io
Go EOS!