Hello again EOS,
The Chief Delegates from the second trial mock Eden had our fourth team meeting this afternoon. In our continued efforts of transparency you will find below the notes from this meeting as well as a link to the unedited video capture for your review.
We have begun our Eden Office hours which run each weekday from13:00 15:00 UTC. These are meant to be open calls to the community that are almost like a water cooler chat. It can be working background noise or you can ask questions about Eden or the various projects that are on the go. This Zoom link is the same for each daily call:
For reference to our Eden on EOS framework initiative, organizing ourselves more effectively, please see the documents below:
Full Eden on EOS holacracy framework:
Shortened Eden on EOS framework with the specific roles listed for easy view:
The full unedited video from this meeting can be found here: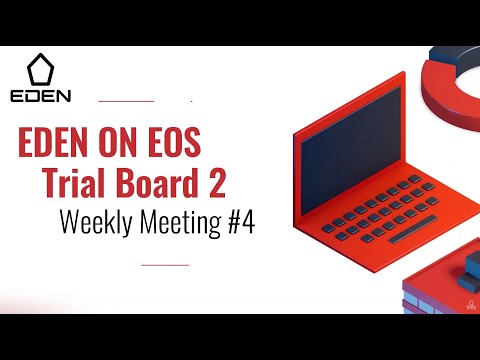 The following remains as our Chief Delegate Trial 2 mission statement:
Develop an Eden on EOS organizational structure that is scalable, iterative, transparent, & collaborative with the entire EOS community.
Review Progress on our Individual Mandates:
Felix:
- Tried to host election last week for the Creator Now community. A workshop popped up on the schedule right before Felix's time, and it went longer than expected. 11 people showed up. One guy is interesting in becoming an Eden member.
- Felix will record the whole process of bringing on a new Eden member.
- Felix has a new proposal, where the creator now can use the Eden process to have them do a vote. Felix will host the election, the community would vote, and EOS prize provided.
- Feedback was that if the Creator Now community was hesitant of the crypto scene.
- Ideally he will get the interest of the main guy of this community.
- Suggestion: focus less on crypto and more on the Eden process or More Equal Animals.
- There aren't any events scheduled next week so Felix might have better turn out if he tries this again then.
Ami:
- In the middle of his week 3 of his plan.
- Using greymass' protocol, called signing request.
- When a new user wants to create an account, the website manager can click on this to have this show up on his wallet, so his details get filled in. So the new person does most of the work of filling in his account details.
- Testing on Jungle, and working ok
Josh:
- Have been deciding what EOS Support will become.
- Intercom is ready for integration into the website.
- Initial website is almost ready.
- Dario and others are working on the knowledge base.
- Interviewing developers who can help with the smart contract for the longer-term platform.
- Following up with Michael (EOS USA) on Thursday.
- Following up with Mark Stair to get his Tipit bot working in the Telegram groups.
Chris:
- EOS Costa Rica video was released last week.
- Have reached out to EOS Dublin, Team Greymass, EOS Amsterdam, EOS Nation, and GenerEOS
- Focus is still on building a repository of information about BPs for the community to use and refer to.
- The proxy will launch when more interviews are done with the bottom line goal of having it up and running before the next election. Goal is more to provide information and education about the BPs first before the proxy goes live.
Stay tuned for more meetings and notes next week.
Go EOS!!