Hello again EOS,
The Chief Delegates from the second trial mock Eden election had our tenth team meeting today. In our continued efforts of transparency you will find below the notes from this meeting as well as a link to the unedited video capture for your review.
General Notes:
Soon we will publish a summary of our work for this term. We can highlight any issues, successes etc…
We will aim to publish this and discuss on our final Board meeting on Oct 4th.
Chris will be putting out a forum post next week on things to consider as a voter in the upcoming election. This is more for the less knowledgeable participant in terms of blockchain/EOS knowledge. This may also help encourage more participation in the upcoming election for at least that first round.
We are continuing with our Mon-Thurs 13:00 UTC open zoom office hours/Eden induction support call. The link for those calls remain the same: Launch Meeting - Zoom
More Equal Animal review live sessions are still ongoing. The next instalment will be this Friday at 13:00 UTC. Find the live-stream link in TG before the show or look for it on the Eden YouTube channel page. Unpacking More Equal Animals
Eden on EOS Holacracy Framework:
For reference to our Eden on EOS framework initiative, organizing ourselves more effectively, please see the documents below:
Full holacracy framework document.
Shortened framework document with the specific roles listed for easy view.
The following remains as our Chief Delegate Trial 2 mission statement:
Develop an Eden on EOS organizational structure that is scalable, iterative, transparent, & collaborative with the entire EOS community.
The full unedited video from this meeting can be found here: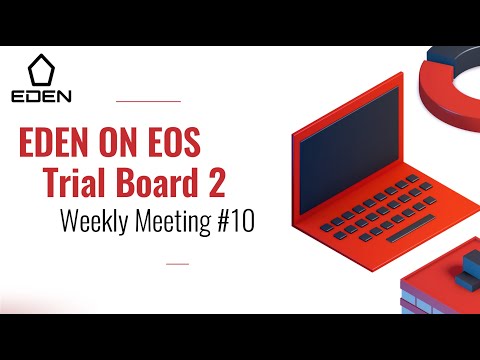 Review Progress on our Individual Mandates:
Ami: EOS in a Box
Working on jungle test net on a temporary domain
He tested it with friends - learned a lot from these tests
He is improving the flow. When you go to the website, you pick the blockchain (jungle or EOS mainnet) and then you can enter the owner's custodian account. From here you can share a link with your friends. They will have fewer steps to complete.
New user pick account name, uses biometrics to make key pair and then sends this back to the owner.
Owner then makes the account.
This is all going to be on eosinabox.com and can be tested from there to make sure it works.
This only works for now to transfer EOS from one account to another with a memo. This will be improved later to allow for other transactions with dapps.
Josh: EOS Support
Slightly off schedule to get the MVP out. Still aiming for later this week or early next week.
Just trying to tie up loose ends and get folks ready to go live.
Some other work is also ongoing for the upcoming election and use of Pomelo.
Felix: Creator Now
Working on some content around Eden. Going to make 2 videos. A welcome to Eden, what its about etc…
Put up a video last week on 7 reasons to be bullish on EOS.
Chris: Eden Member's Approved Proxy
Proxies went live last week.
~60k votes in the rewards proxy and under 10k for the donate proxy.
4 BP interviews planned for this week, will release those more gradually.
More contacts have been made for future BP videos.
Basically the commitment from the election is now met in terms of getting the proxies set up and running.
Will continue to interview BPs and provide that info. Will continue this after the Oct 9 election.
Go EOS!