Hello again EOS,
The Chief Delegates from the second trial mock Eden had our Sixth team meeting this afternoon. In our continued efforts of transparency you will find below the notes from this meeting as well as a link to the unedited video capture for your review.
We are continuing our Eden Office hours which run Monday - Thursday from13:00 15:00 UTC. These are meant to be open calls to the community that are almost like a water cooler chat. It can be working background noise or you can ask questions about Eden or the various projects that are on the go. This Zoom link is the same for each daily call.
Some Other things to note (that came up at the end of the meeting):
A few of us are starting review of More Equal Animals (MEA) in the form of a weekly livestream series at 13:00 UTC each Friday. The goal of these discussions will be to output a condensed summary or TLDR of the ideas from the book so they can be more easily shared.
Josh is looking to develop a modulated course for MEA that can help come from this effort.
We are looking for others to join us on these streams so please reach out to us if you'd like to be included.
Eden on EOS Holacracy Framework:
For reference to our Eden on EOS framework initiative, organizing ourselves more effectively, please see the documents below:
Full holacracy framework document.
Shortened framework with the specific roles listed for easy view.
The full unedited video from this meeting can be found here: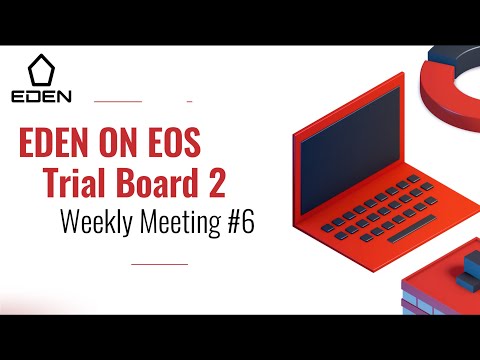 The following remains as our Chief Delegate Trial 2 mission statement:
Develop an Eden on EOS organizational structure that is scalable, iterative, transparent, & collaborative with the entire EOS community.
Review Progress on our Individual Mandates:
Josh:
EOS support still moving forward.
Should be a bit update on this soon.
Reviewing Holacracy via the training opportunity provided by a member at the Holacracy One organization.
Ami:
Alpha version is delayed. Should be ready in a few days.
Current Eden chief delegates will help to test this.
This test will be something that we can surf to and click on to see if it works.
Chris:
No new BP interviews from last week, but a couple booked this week.
The edenproxy.org website is under development. This will be a place to consolidate Bp metrics that are more community focused vs the more technical aspects, which there are already many of.
Goal is to finish this site to be sufficiently updated with info so it can go live and then lead up to launching the proxy.
EOSRate.io has some updates that Chris will be seeing this week.
Encouragement of using this tool by Eden members will be pushed next week as those are the rating that will feed what BPs the proxies vote for.
Felix:
Started a new job, congrats Felix, but was unable to make the call.
Felix is still working on getting an Eden style election within the Creator Now community.